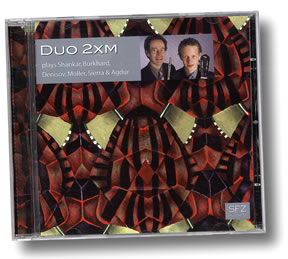 DUO 2XM (SFZ 1007, 2003) 64'08
Mats Möller, flute
Johannes Möller, guitar
Duo 2xm presents some of the most famous works for flute and guitar written during the last decades, together with two new Swedish compositions.

– In our time all music styles are present at the same time, and this has a great influence also on Western art music, says the young guitarist and composer
Johannes Möller.

On this cd you will find Indian raga together with Russian avant-garde (Shankar and Denisov), music from the djungles of Puerto Rico and beautiful melodies inspired by Erik Satie as well as by popular music (Sierra and Agdur).