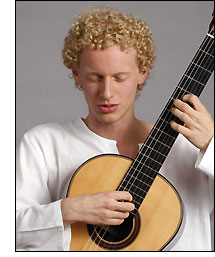 The Swedish guitarist Johannes Möller has captivated audiences throughout the world with charismatic and soulful performances. His ability to communicate a musical message to listeners of any cultural background, age or level of musical experience have brought him an international career and numerous prestigious prizes. In June 2010 he was awarded first prize in the GFA Concert Artist Competition that was held in Austin, USA.
He played his first public concerts when he was 13 years old. Since then he has found time for more than 400 appearances in Europe, South and North America. These include performances at the Purcell Room in London, the Concertgebouw in Amsterdam, the guest artist series at California State University Northridge in Los Angeles (USA), as well as a live performance for the BBC 3 in England.
With his distinct musical language, Johannes Möller's artistry has reached well beyond the usual guitar circles; a fact confirmed when he in March 2008 he won the prestigious Dutch Vriendenkrans concours that took place in the Concertgebouw in Amsterdam. He also became the first guitarist ever to win the the Ljunggrenska Competition (Sweden) in 2007. In 2005 he also became the first guitarist to win The Bromsgrove Festival International Young Musicians Platform (England). Critics have also noted his special qualities, writing of his playing "Guitarist Johannes Moller achieved miracles with his lucid, spacious playing" (Stephen Pettitt, London Evening Standard).
Why Johannes Möller self-taught at the age of 12 started to compose music he does not know, but an outburst of creativity resulted in a large quantity of mainly chamber music works for various instrumentations, a selection of those where recorded on a CD with some of the top instrumentalist in Sweden when he was at the age of 14. A critic from Swedish newspaper Göteborgsposten wrote about these compositions "What is to become of Johannes Möller? A Swedish Mozart – in our time?"
In his later teenages he continued composing but with increasing struggle, going through various compositional styles and techniques. It was not until he composed his piece "When the winds dissolve" for alto flute and guitar in 2006 that he found his personal voice. The world premiere of this piece that took place during the "Iserlohn International Guitar Symposium" was received with such enthusiasm from colleagues and students alike that he decided to dedicate himself to mainly compose music for the guitar. The following year he composed a 45 minute long work for voice, 2 guitars and percussion called "In the temple of time" and with that piece he arrived at what is now the fundament to his compositional language. In 2009 he won the "European guitar award" for his guitar solo composition and in October 2010 a CD were he plays his own music was released. His piece "When Buds Are Breaking" for two guitars, received its world premiere at the Uppsala International guitar festival by the Eden Stell duo who also commissioned the piece. He is currently working on a commission for the guitar ensemble project Guitar Circus as well as he is writing a piece for the Los Angeles Guitar Quartet.
He has earned a Bachelor of Music with Honours from the Royal College of Music in London where he studied guitar with Gary Ryan and Carlos Bonell and composition with William Mival, and a Masters degree at the Royal Conservatoire in the Hague where he studied with Zoran Dukic From this institution he was also awarded a scholarship for excellent students that allowed him to study privately with with Pavel Steidl in the Czech republic as well as composition lessons with with Dusan Bogdanovic in the USA. He also completed a second master at the Conservatoire in Amsterdam where he studied guitar with Lex Eisenhardt and compostition with Richard Ayers.